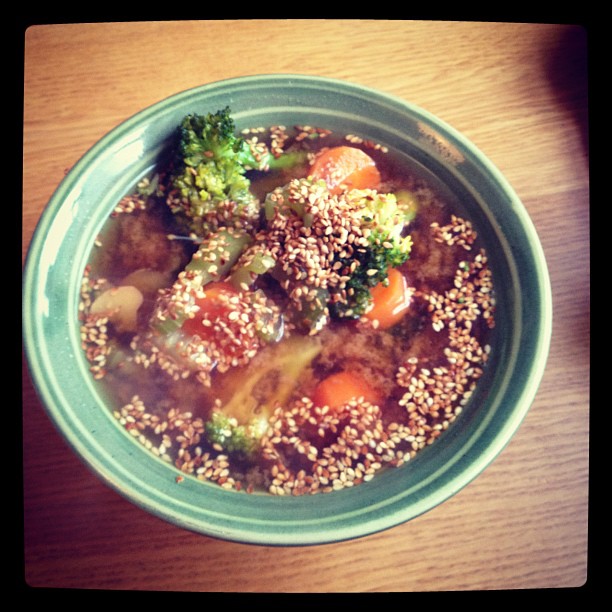 Ingredients (for 3):
A little vegetable oil (I use sunflower)
A teaspoon of sesame oil
2 Celery sticks
1 Carrot
1 Head of broccoli
Miso paste
Ginger
Sesame seeds
A dash of tabasco or tiny bit of chili in some other form
Recipe:
Slice the celery thinly so you get moon shaped slices.
Peel and slice the carrot into half centimetre circles.
Put some vegetable oil and the sesame oil in a large saucepan.
Once the oil is hot, drop in the celery and carrot and saute for 5 minutes.
Separate the broccoli into florets and add to the pan.
let it all saute for a few more minutes while stirring regularly to ensure all the brocoli gets mixed in.
slice some ginger as thin as you can and add to the pan. I would say 5 or so thin slices should do it.
Boil some water separately in an electric kettle and then add it to the pan. About half a liter of water, enough to generously cover the rest of the vegetables.
 Add Miso paste to taste. 2-3 tablespoons should do the trick.
Turn the soup off and toast some sesame seeds to sprinkle on top.
Enjoy!